Professional Mediation Training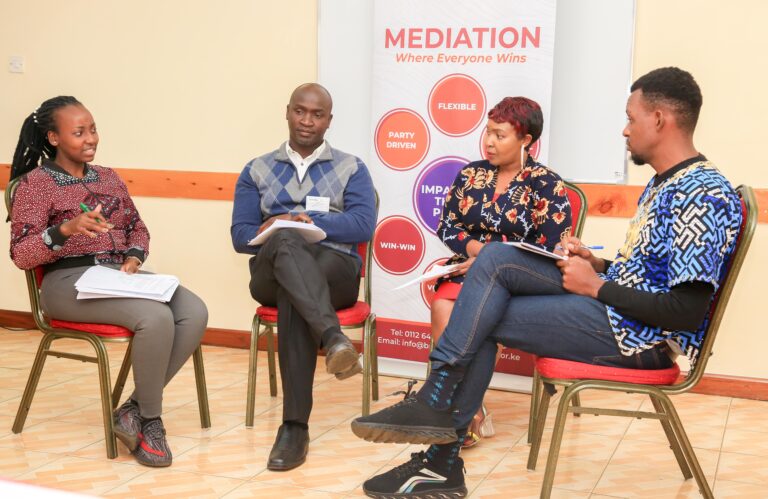 BPI promotes Mediation as an effective and efficient alternative dispute resolution mechanism. We train individuals and groups to be professional mediators through our;
40-hour Professional Mediation Training. Once trained, the mediators are certified and qualified to join a mentorship program, start their private practice and/or apply for accreditation from the Kenyan Judiciary and be Court Annexed Mediators. The training takes five full days, usually from Monday to Friday and is done in person. Once certified, the trained mediator qualifies to mediate all types of inter-personal disputes whether workplace, family, commercial, inheritance, separation, inter-ethnic, inter-religious, small claims and others.
Mediation Refresher Course. It is a three full days training designed for certified mediators who are looking into deepening and sharpening their mediation knowledge, skills and techniques. The refresher course is done in person.
Training for Trainers Course.

The training is designed for people who would love to be Professional Mediation Trainers. The training takes 3 full days and     is facilitated in person
Sign up for our next Conflict Resolution training. Get intouch with us: Email: info@bpi.or.ke ; Phone/Whatsapp: 0112646601
Mediation is a process whereby an impartial third party, a mediator, helps conflicting parties communicate and negotiate with each other by facilitating and guiding the dialogue in a structured multi-stage process to assist them reach a voluntary and mutually satisfactory settlement.  The mediator does not provide advice or make decisions for the parties but rather helps them come up with their own solutions.
At BPI, we recognize that conflicts are an inevitable experience in life and as such, it needs not make our lives miserable. If well handled, conflicts can be a positive turning point in a relationship. But when people get stuck in their conflict, it can be both stressful, depressing, costly and very damaging to human relationships. 
Mediation is a great tool for resolving most interpersonal disputes and conflicts between individuals, groups, and organizations. Its benefits include durability of settlements, mending relationships, personal skills building and increased community safety. In addition, it is a cost-effective, efficient, voluntary and confidential process that can potentially save relationships in the face of challenging conflicts.
Sign up for our next Conflict Resolution training. Get intouch with us: Email: info@bpi.or.ke ; Phone/Whatsapp: 0112646601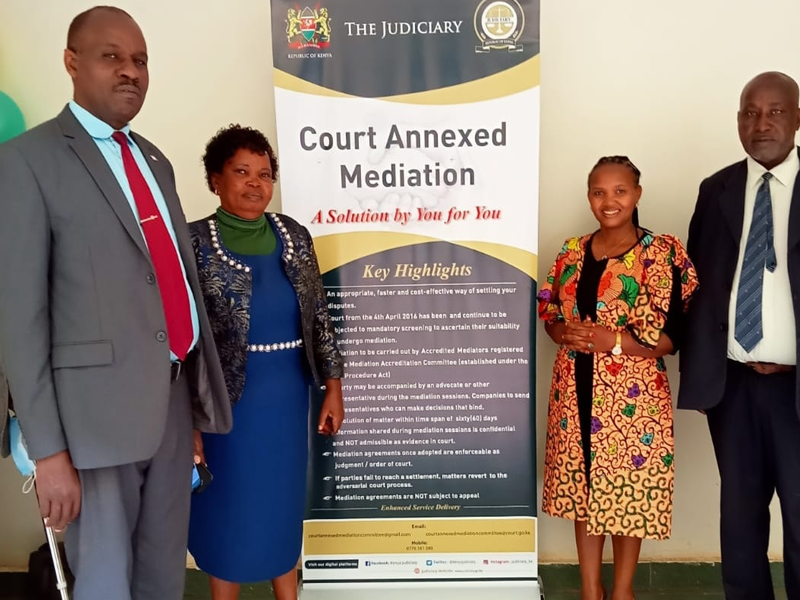 According to the Kenyan Judiciary, only 20% of conflicts that require intervention are registered in the court of law. The remaining conflicts that require intervention are resolved at the community level by religious leaders, Chiefs, community elders and other people, who in most cases, lack in the skills and techniques to support people going through a conflict. The lack of necessary skills and techniques to act as impartial third parties' risks leaving the conflicting parties vulnerable for deeper conflicts.
The Kenyan Judiciary has embraced mediation as a tool for conflict resolution through the Court Annexed Mediation (CAM). They recognize that mediation is a restorative tool and has a significant impact in transforming individuals and communities.
Consequently, the Judiciary is encouraging peace building organizations to support them in sensitizing the public about mediation as a tool for restorative conflict resolution. It is also encouraging peace organizations and institutions to train more professional mediators who can help constructively resolve conflicts at the community level. They hope that more community mediators will help ensure that only major cases go to the court of law.
BPI is determined to empower as many people as possible with the much-needed skills of professional mediation. Kenyans, regardless of where they are, should be able to have easy access to mediation services in every corner of Kenya.
The courts should be the last place for people with interpersonal disputes because they can get help through professional, accessible and affordable mediation services.
When competently used, mediation can be used to resolve most inter-personal disputes and conflicts between individuals, groups and organizations.